WELCOME TO THE PUG CLUB OF SA
Sunday 30th April 2017 was the biggest turn out in a very long time. 50 pugs and about 100 people.

Body Condition Score 6 is a great weight for our pugs to be unless your dog is older then 5 is more ideal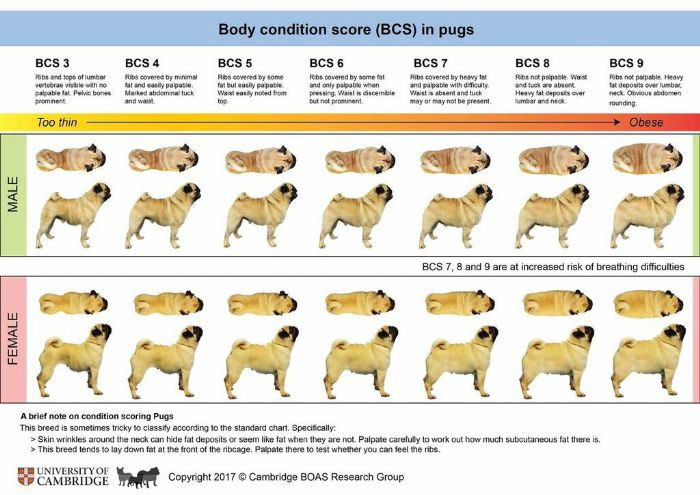 Results for Our Championship Show in 3rd June 2017
BEST IN SHOW - Open Bitch 42 Ch Kabova Little Ms cant be wrong Mrs J Williams
Open Dog 23 Aust Ch Obsidion First Class Mr B Luxton
R/U BEST IN SHOW - Australian Bred Dog 18.. Obsidion High Roller Mr B Luxton
Australian Bred Bitch 39 Ch Kabova Special Agent O Mrs J Williams
BEST Baby Puppy in Show Bitch 29 Bitch Kabova Vanilla Skye Mrs J Williams
Minor Dog 3 Rumarrie Agent of Shield K Herewane
BEST Minor In Show Bitch 30 Pandanlamo Rolys Petite Cherie Miss L Johnson
Puppy Dog 5 Rumarrrie Hes So That K Herewane & P Forbes
BEST Puppy IN SHOW Bitch 33 Aust Ch Parkhurst Touch of Class Mr B Luxton
BEST Junior in Show Dog 8 Quom Pascoe Pruneface P Forbes
BEST Intermediate in Show Dog 14 Ch. Kabova Special Agent Jay Mrs J Williams
Intermediate Bitch 34 Alotinalitle Put a Spell on u Amber Beavis
BEST State Bred in Show Dog 15 Aust Obsidion Monsieur Mr B Luxton
State Bred Bitch 37 Pensgems Gai Maipoll P Forbes
BEST Black in Show Dog 44. Jaditi Leaves Me Breathless Mrs D McClarty
Opposite Bitch 45. Jaditi Queen Latifah Mrs D McClarty
NEWS FLASH Alpha Dog Coats AND Advance are now PROUD SPONSERS
click on their emblem to go to their web page
*******************************************************************************************************************
Our Fun Days are held at DogsSA
Photos on the right hand side 5th Nov 17
Future FUN DAY Dates are as follows:
Sunday 18th March 2018
Sunday 16th September 2018
Sunday 4th November Christmas 2018
Hope to see you all there
If you come along for the Christmas funday and want to get a gift from Santa
for your Puggy then can you please bring a present wrapped worth $10 or less
We then put in in a basket and hand them out randomly.
Thank You and bring plenty or water for your dogs.
Held at DogsSA Grounds, Cromwell Rd. Kilburn.
12 Noon - approx 3pm. ALL WELCOME. Dogs must be on a lead.
Fun & games, BBQ Lunch can be purchased, Raffle, Merchandise Table (Pug stuff) etc;
All events are subject to the Rules & are automatically cancelled if HOT weather Forecast 32 degrees or more
For all enquiries Appart from Puppy listing please contact the Club Secretary
Sue Willie
Ph. 0418 955 176
----------------------------------------------------------------------------
Updated 17th March 2018
188774 Visitors